Wishfully you are all enjoying your holidays thus far, we have been busy relaxing as a family and enjoying the wonderful snow adventures Canada has to offer this time of year.
Have you finished all of your shopping and Christmas baking? If you are in the mood for some fun & creative DIY gingerbread fun – today's blog post is for you!
Last year we collaborate with Stacie Bennett of Sugar Love Cookie Designs to share these adorable AND delicious homemade gingerbread mug toppers with you. We planned this shoot for years to be honest and it finally came together last Christmas and here I am sharing it out. We hope you love it! Stacie was kind enough to share her Vegan Gingerbread & Icing recipe she used with us and you can find it below. The kids LOVED these gingerbread houses and so did all of the adults, it made for an adorable and festive Hot Chocolate tower after an afternoon of tobogganing and snow man building!
Happy Holidays and do let us know in the comments section below if you try out the recipe.
Roxanne xo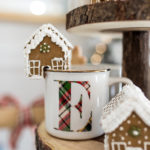 Vegan Gingerbread
Delicious Vegan Gingerbread

Ingredients
1

cup

vegan butter

softened slightly but still cool

1

cup

dark brown sugar

tightly packed

2/3

cup

molasses

6

tsp

corn starch mixed with 6tsp water

this equals 2 eggs

2 1/2

teaspoons

ground cinnamon

2

teaspoons

ground ginger

3/4

teaspoon

kosher salt

1/8

teaspoon

ground cloves

4 1/2

cups

all-purpose flour

you may need as much as 5 cups
Instructions
Preheat the oven to 375 degrees F, and line baking sheets with parchment paper

Place the vegan butter and brown sugar in a large mixing bowl, and cream together until smooth.

Scrape the bottom and sides of the bowl with a silicone spatula, add the molasses, and mix until combined.

Add the cornstarch Egg, cinnamon, ginger, salt, and cloves, and mix on medium-low speed until combined. Add about 2/3 of the flour, then mix on low speed until incorporated (the dough will look very dry and crumbly at first, but will come together after a minute or so). Add in the remaining flour, a little at a time, until the dough forms a ball and comes cleanly away from the sides of the bowl. (If the dough still seems sticky, add up to an additional 1 cup of flour, until it is smooth and easier to handle.

Roll out the dough to a thickness of 3/8-inch between 2 sheets of parchment paper, and cut shapes with cookie cutters. Transfer shapes to the prepared baking sheets, and bake for 10 to 14 minutes, or until the cookies are set around the edges and just a little softer towards the centers.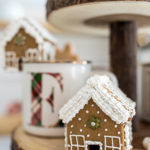 Vegan Royal Icing
Delicious vegan royal icing for decorating your vegan treats
Ingredients
I

Can

Chickpeas

1

kg

Bag of icing sugar

plus 1/3cup

3

tsp

Vanilla
Instructions
Drain juice from chickpea can and mix on medium in mixer for 30 seconds.

Add icing sugar and vanilla. Depending on how much juice came from your can (varies) you may need to add the remaining 1/3 cup. You want it to be a thick/stuff consistency.

From there you put your mixer on high for 3 minutes. It will a nice shiny white colour by the end of the 3 minutes.