Date nights at home are always my favourite. I don't need to fuss as much about my outfit or arranging nana to watch the kiddos – I can just make myself feel great with some freshly styled hair and figure out dinner and what movie to watch. Craig and I have always preferred to be at home then to go out: every anniversary we spend together with a pizza and a rented movie on the tv – bliss! Today, I am so excited to be partnering with Pantene for this article about self-care at home and including some fun date night ideas too!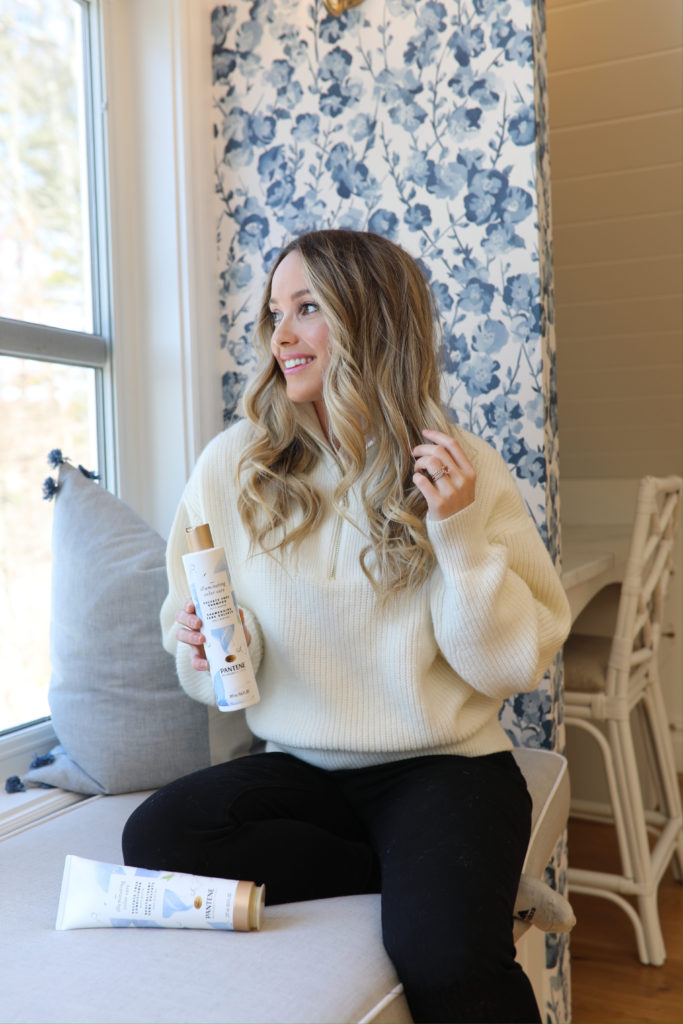 We all deserve some self-care, and this week I couldn't wait to treat my hair with the NEW Pantene Nutrient Blends Biotin Illuminating Colour Care shampoo & conditioner. My hair was in serious need of some TLC- it's been living in and out of top knot buns for 2 weeks, neglected to stay the least. My hair was feeling super lack-luster until trying out this new Pantene line.
I have to call out that I love that this line is free of chemicals I avoid in hair products. I'm talking NO sulfates, NO mineral oil, NO parabens and NO dyes – heck ya Pantene, way to go! This line does contain a wonderful BIOTIN ingredient though. Biotin is Vitamin B7 and this one in their line is from France, merci beaucoup Pantene. My hair LOVES this line and I equally love that I can easily find it at an oh-so fab price point too!

After trying the Pantene Nutrient Blends Biotin line, my hair feels fresh and vibrant – like it does right after my seriously missed blowouts at the salon. And who doesn't love fabulous vibrant colour for date night? I sure enjoy it! My hair is my thing. If my hair feels fabulous, I feel fabulous!
How can you enjoy some TLC and self-care at home before date night?If time permits of course. Even squeezing in a 10 minute hot shower is magical for me these days. Perhaps a nice bubble bath? Give yourself an at home manicure or try out a new eyeliner tutorial you've been wanting to try. I mean, my Pinterest boards are full of beauty tricks I have always wanted to try, and if one doesn't work out, at least you are at home to wipe it off and try something else. You can even try an at home face mask while washing your hair!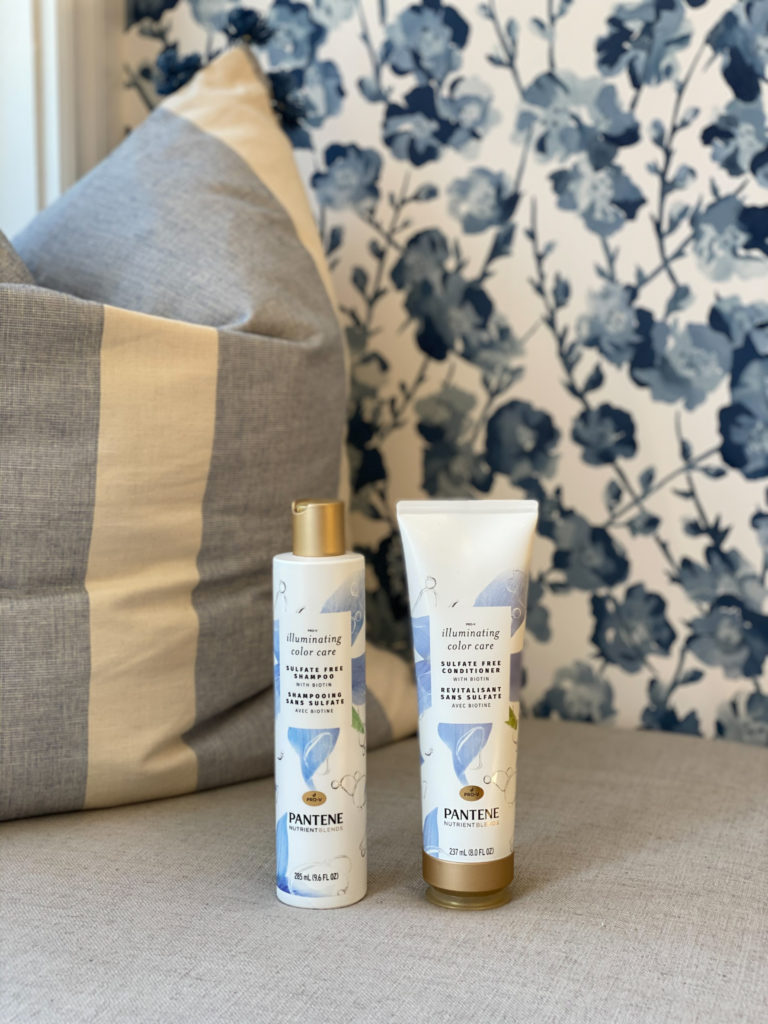 Needing some at home Date night ideas? We've got you covered…

If you are a tv-loving couple, I highly recommend renting a new movie that is showing in theatres. Make your own popcorn (or favourite snack).
Binge a new series. We're all guilty of it – Ozarks new season started March 27th!
Board Games are a hit at our house. We can easily spend hours playing card games like UNO, Crazy 8's. MadGab or Monopoly as we are both competitive, plus we get to catch up and have great conversations this way during a playful game! Perhaps you've wanted your significant other to teach you a new card game?
Did I mention face masks already? At home you can convince your hubby to join you for some TLC without feeling embarrassed – hey, we all need some help in the pores and wrinkles department these days, no shame!
Try a new recipe! This is a favourite for Craig and I at home. We bake up a storm together after the kids go to bed and they wake up to delicious goodies in the morning. But for date night, you could also make dough together and homemade pizza or pasta!
If you can workout in your own home, maybe try a fun class together before indulging in that delicious pizza!
Do a puzzle together – I mean a really intense puzzle! Or even build a hardcore LEGO build together like the Harry Potter castle or the Star Trek USS Enterprise. I guarantee hours on hours of fun and something you can show off after! I also promise this is way easier than putting up wallpaper together (ha!)
Paint together. No, I am not talking tackling renovations for date night – I mean watercolours. There are so many fun and free printables online that you can print out and paint on together, like a watercolour class at home!
Lastly, if you like romance – put that extra effort into your dinner set up. I
am talking lit candles, fresh flowers (if accessible) – maybe even write a cute menu too!
I hope that these self-care and fun date night-in ideas will inspire you to give your hair some TLC with the new Pantene Nutrient Blends lines and enjoy some time with your special someone at home too! This blog post was made in partnership with Pantene, and all opinions are as always, my own. – Roxanne xo
Do share your favourite date night ideas in the comment section below!