Dare we say spring may finally have sprung?! We're finally seeing warmer temperatures and sunny blue skies.. We've been anxiously awaiting spring fashion for months now but soon we'll be able to snip off the tags and free our new purchases from their hangers. We're sharing our five favourite looks this season and how to put them together for your go-to spring uniform. Taking you from play dates at the park to coffee dates with girlfriends to date nights in between, we're confident these effortless outfits will be on repeat this spring.
No.1 The Boyfriend Shirt (or as I like to call it, The Husband Shirt)
Thanks to the soon-to-be American princess, Meghan Markle, the white button down classic has never been so damn chic. Slightly oversized and most often paired with skinny jeans, the white shirt adds a crisp and polished element to an otherwise casual ensemble. Your favourite sunnies, every day jewelry, and flats can be layered into this look making it effortless and an outfit you'll wear on repeat. Swapping out your flats for strappy heels or on-trend mules instantly takes you from daytime to evening without skipping a beat. And it should be noted: this staple looks just as polished with other wardrobe favourites like boyfriend jeans and/or olive cargo skinnies. You can't go wrong.
Source: Happily Grey Blog
No.2 A Long Cardigan and Camisole
With temperatures still varying daily (and sometimes even hourly), layering is key throughout the spring. We are loving the look of feminine camisoles paired with a light-weight cardigan layered overtop. Camisoles with lacy details and silky fabrics elevate the overall look while the longer cardigan keeps the outfit casual, comfortable, and most importantly, wearable. We think this combination is perfect for a romantic dinner paired with skinny jeans and heels or subtly sexy with slim joggers for a cozy date night in. We're all about versatility; the ability to dress these pieces up or down makes them staples in our closets!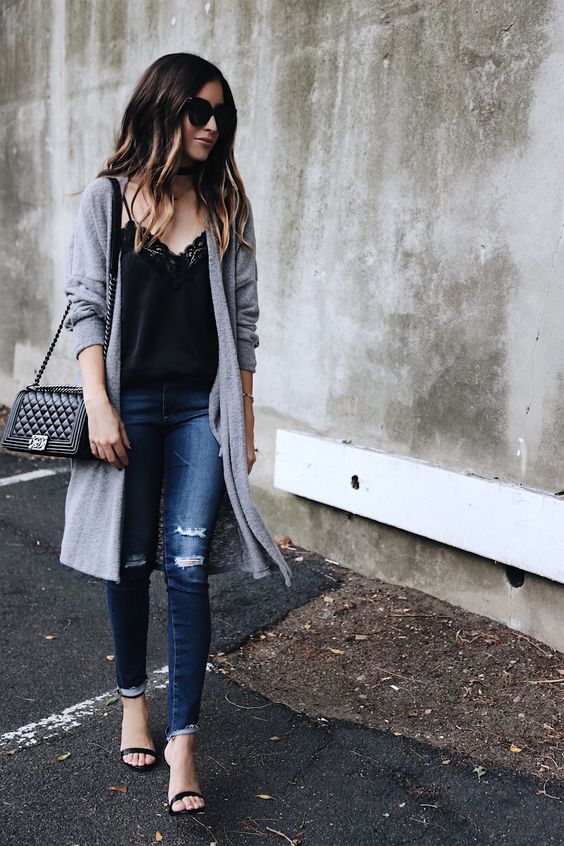 Source: https://www.pinterest.ca/pin/456200637239175333/