Mother's Day is a little less than two weeks away (Sunday May 13th) and we can't stop day dreaming about how we'd like to be pampered. While most of us would probably be content with a good night's sleep, drinking a coffee while it's hot, and an uninterrupted bathroom break, we've collected some of our favourite things (and items from our own wish lists) to share with all of you. We think these items are thoughtful enough to gift your mother, mother-in-law, or any special female in your life, and we most definitely encourage you to casually leave your laptop open to our gift guide so we can help steer your husband in the right direction (wink wink, nudge nudge).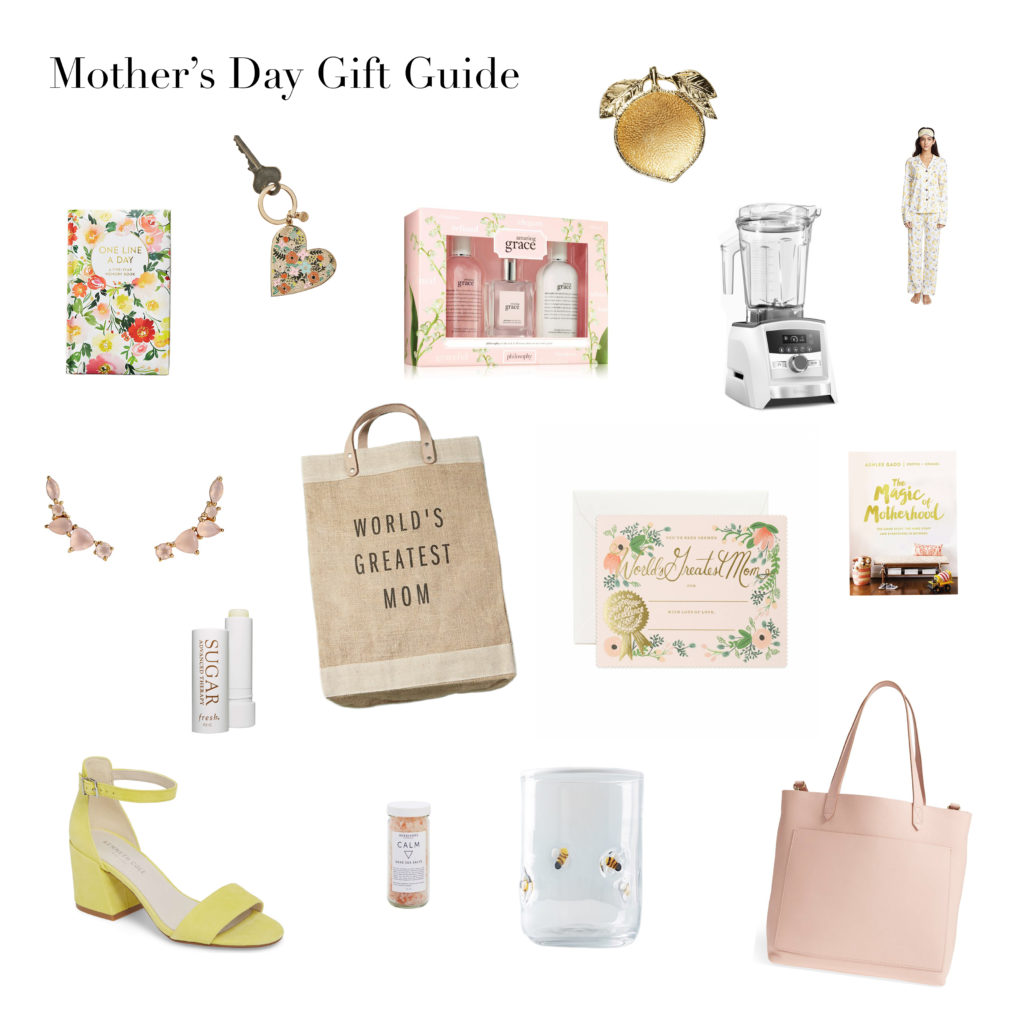 Pin It
White Vitamix. Definitely a splurge when it comes to mother's day gifting but I'll never stop praising my Vitamix blender. It's truly a multitasking appliance and we use ours every. single. day.
Printed lemon sleep set. Although what we really want is a solid nine hours of sleep, these adorable pajamas are sweet enough to convince us otherwise, especially on those mornings when we need allllll the coffee.
Petal pink Madewell tote. We are crushing hard on this tote and think it's classic yet totally on-trend for the upcoming spring/summer season. It's the perfect size to carry all your own essentials while still leaving enough room to stash goldfish crackers and the 376 dinosaurs that we know you're schlepping around.  
Amazing Grace. Philosophy makes some of the most beautifully scented perfumes and amongst them is our favourite, Amazing Grace. We absolutely love how fresh, clean, and delicate this scent is.
One Line a Day memory book. If you're a mom yourself, you know how quickly time with your little ones passes by. What's the expression? "The days are long but the years are short." I've been using the One Line a Day journals for a few years now and unlike other forms of documenting (which can often feel overwhelming), it's so simple to quickly jot down a sweet quote, memorable moment, or precious milestone each night before bed. The pretty floral cover makes this one perfect gift for mother's day gifting.
World's Greatest Mom market bag. We know you're the world's greatest mom, so why not proudly proclaim it for all to see at the farmer's market?! Pair with a bouquet of peonies and a bottle of rosé for the sweetest (and easiest!) mother's day gift.
Enamel keychain. We're smitten with this floral Rifle Paper Co. keychain and if added to a set of keys we think it would make for the sweetest daily reminder that moms are seriously treasured.
Lemon trinket dish. This lemon trinket dish is giving us all the heart eyes. Leave it to Anthropologie, right? Used to corral spare change, stash a set of keys, or organize bits and bobs around the house, we would add this sweet little dish to every room of the house if we could.
Bumble bee juice glasses. Could these glasses bee any sweeter? We don't think so. And just in time for patio season!
The Magic of Motherhood. Curling up with a warm mug of tea and this New York Time's Best Seller is at the top of our mother's day agenda.
Sugar lip treatment. We know you love to spend your day smothering your sweet babies in kisses so treat your lips to one of our favourite lip balms.
Lemon suede block heels. After enduring a winter that seemed to drag on for like 6 months too long, we're all craving sunshine and spring temperatures. I'm obsessed with the shade of these soft yellow block heels and would pair them with boyfriend jeans and a white ruffled top. (Ahem, yes please Craig!)
Herbivore Calm Bath Salts. We're not sure about you, but we could use a little more calm in our lives and a lot more time to soak leisurely in the tub. We're pretty obsessed with these Calm dead sea bath salts that are made with 100% natural ingredients (like pink Himalayan salt, ylang ylang, and vanilla) and smell like an absolute dream. Now if only we could convince our little ones not to knock on the door every 30 seconds, ha!
Leah Alexandra earrings. We love Canadian jewelry designer Leah Alexandra and think these stunning earrings would be just as lovely to gift as they would to receive. Give us all the sparkling jewels!
Rifle Paper Co. greeting card. Don't forget a card for mom! Whether you're popping it in the mail or delivering it over brunch, we think this greatest mom certificate card from Rifle Paper Co. is too cute.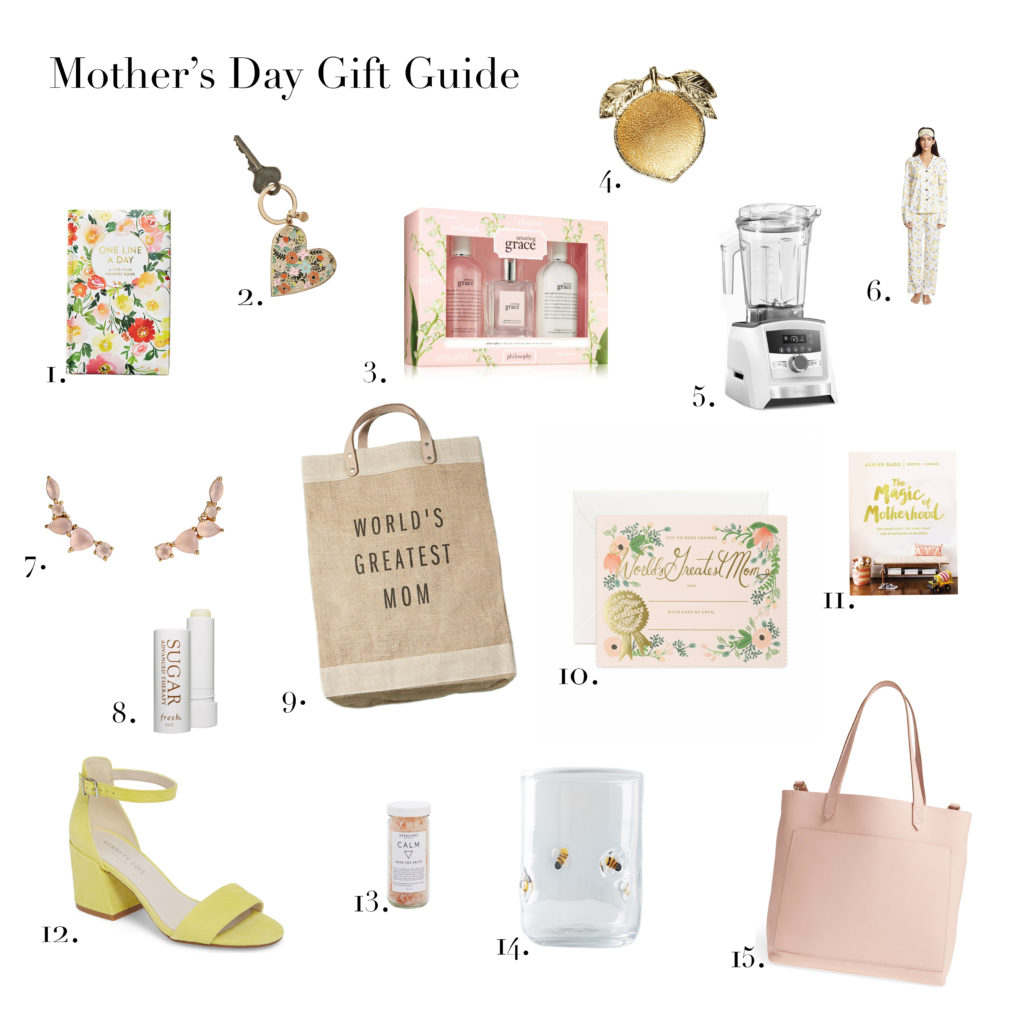 Pin It
One Line a Day memory book | 2. Enamel keychain | 3. Amazing Grace | 4. Lemon trinket dish | 5.  White Vitamix | 6. Printed lemon sleep set | 7. Leah Alexandra earrings | 8. Sugar lip treatment | 9. World's Greatest Mom market bag | 10. Rifle Paper Co. greeting card | 11. The Magic of Motherhood | 12. Lemon suede block heels | 13. Herbivore Calm Bath Salts | 14. Bumble bee juice glasses | 15. Petal pink Madewell tote