Spending time together as a family is basically how we spend each and every weekend. With the work week being so busy while juggling to accommodate our varying schedules, Craig, the kids, and I, all look forward to slower weekends spent around home. Pancake breakfasts, cuddled-up movie nights, pillow forts, walks with Gatsby, and visits with friends and family are usually what we're up to. But with Earth Day being tomorrow (Sunday April 22nd ), I've been giving how we spend time as a family some extra thought. Here's what we have planned for celebrating Earth Day…
Unplug and switch off. Literally.
"Unplugging" is a term our generation has become pretty familiar with. However, why not intentionally spend the weekend, or in the very least Sunday, unplugged from electronic devices and unnecessary electricity? Rather than our usual movie night curled up on the couch, I'm planning a night of board games by candlelight. I know the kids' will love the focused family time of playing their favourite games and filling our kitchen and family room with candlelight will be an unexpected touch (not to mention about as romantic as date nights at home come nowadays, am I right?).  Perhaps we'll even follow up with bedtime stories read by flashlight?
A trip to the Farmer's Market.
We love visiting the local farmer's markets and we're lucky to have access to a few close by in various areas. I'd love to try and plan some of our weekend meals using only locally grown and/or sourced ingredients that we can score at the farmer's market. There are so many benefits when supporting local – for starters the food you're buying is likely to be fresh and in season, by purchasing locally grown foods you help maintain farmland and green space in your community, not to mention you're reducing the carbon footprint when the food you select hasn't travelled long distances by truck. I'm thinking we could start with a homemade pizza using Homestead's olive oil dough from the market, piled high with farm fresh toppings from Nicholyn's. Don't forget your reusable tote bag!

Explore.
Our home is surrounded by forested areas and we love to spend time exploring and walking the trails with Gatsby and the kids. It's such an easy way to get outdoors and appreciate the value of nature. We recently downloaded the Seek app which encourages nature observations while helping us to identify wildlife and plant life local to our area, Ella and Noah love scavenger hunting and I love that we can sneak in some learning while they play!
Eat more of the leafy green stuff.
You guys know we're big fans of our local plant-based restaurant Ripe Juicery, but I'd love to become familiar regulars at some of the other "green" restaurants close by, too. Eating more plants (and fewer animals) has environmental benefits too great to ignore, and while our family is far from being vegan, we have been striving for quite some time to eat less meat. Trying out new-to-us vegetarian (or primarily plant-based) restaurants is at the top of our Earth Day to-do list! If you're local to us, make sure you're checking out Ripe, Avocobar and Boon Burger.
Bee friendly.
Bees are so important to the planet – vital in fact! Bees pollinate 70 of the top 100 human food crops, so basically 1 of every 3 bites of food we eat is derived from plants pollinated by bees. In an effort to help the dwindling bee population, I would love to add a little bee house somewhere on our property and I can't think of a better day than Earth Day to welcome them to a new home. After all, we do have our very own veggie gardens that need love from the bees. This modern bee house from A Beautiful Mess is the cutest and I think it's something that Craig and the kids could easily build together.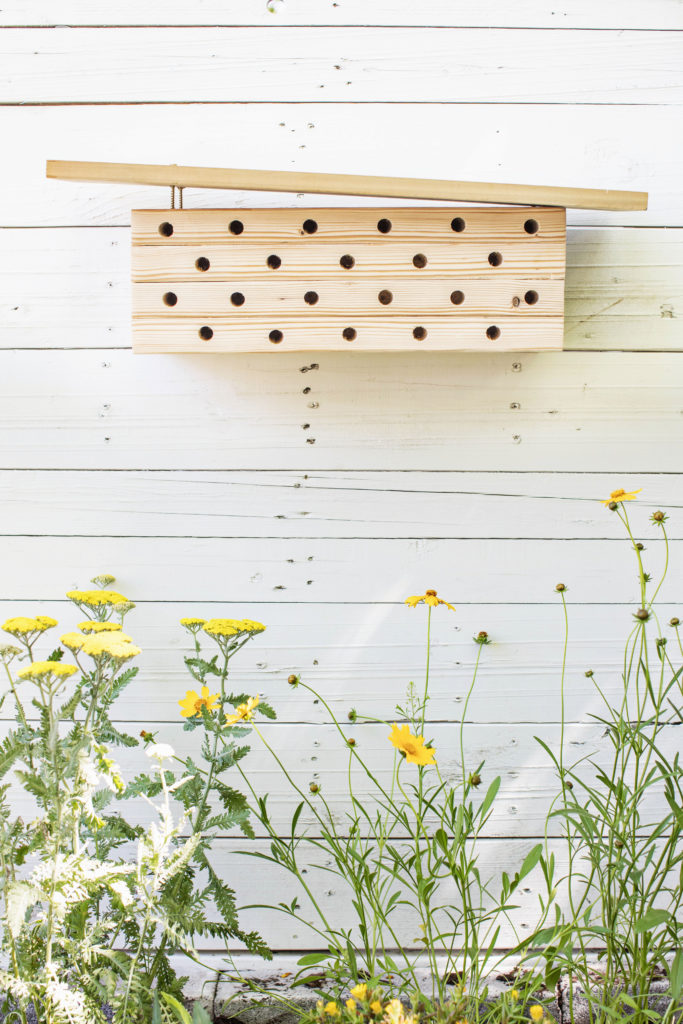 Pin It
Plant a tree.
Craig and I were married a few summers ago at a local tree farm and I would love if we planned to revisit the farm with Ella and Noah. The kids would adore selecting a tree sapling for our (new-ish) backyard. I think this could become the sweetest family tradition if every spring on Earth Day we brought home a tree to plant together, watching it grow throughout the seasons, and eventually (over the years) creating a memorable tree collection that grows alongside our family.
Host an Earth Day Adventure Play Day.
We've invited some of our friends over and are hosting an outdoor play day. With the weekend promising to bring us some warmer temperatures, I know the kids will all be eager to spend time in the fresh air. After discovering this amazing resource for encouraging children to engage in self-directed outdoor play, provided by Earth Day Canada, myself and a few other neighbourhood moms are putting together an adventure play day in our very own backyard. Rain or shine, I feel really enthusiastic about supporting the children's need to play while encouraging them to connect with nature and their environment. "Consume less, play more!"
I think it's important to not only make time to spend and connect as a family outdoors but to show our children (the next generation) just how much we value our planet. Celebrating Earth Day (even in the smallest of ways) is a simple start to having important conversations, creating lifelong habits, and modelling the things we'd like to see from our children as we try to take better care of the environment around us. Do you spend Earth Day doing anything particularly special? Would you ever start a yearly tree collection in your backyard? I'd love to be inspired by some of the ways you're getting your family outdoors – please share!