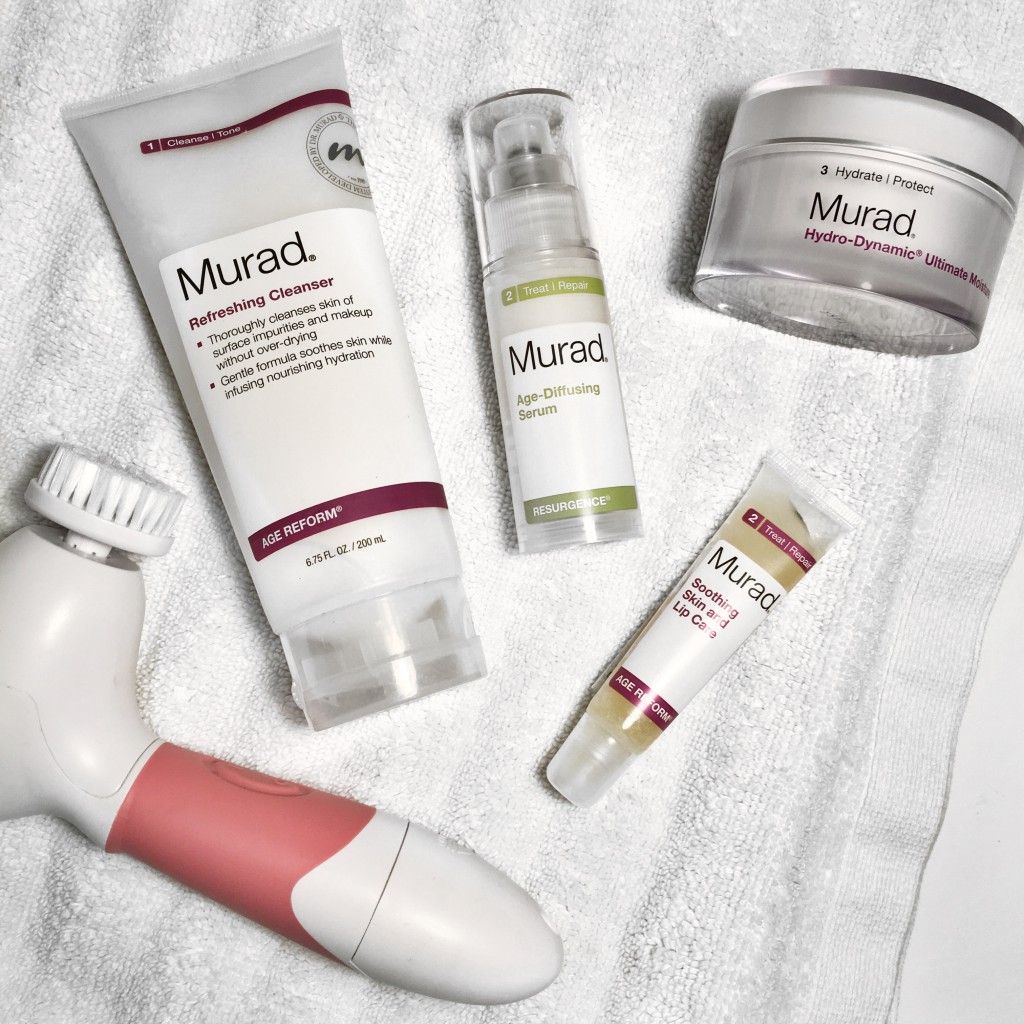 Pin It
We've teamed up with Murad Canada to give one lucky winner 2 of my current favourite products from their skincare line! Murad has become a part of my skincare regime now for 2 months and I am so excited to finally share that regime with you! For year I have been so notorious for not washing my face every night and giving it the TLC it really needs, in the end it only made my dry skin suffer more. I have to admit that less than a year ago you would find me crawling into bed after exhaustedly wiping my entire face with a baby wipe before bed and that's it!! Terrible I know right? Must be a mom thing, I can't be the only one who was doing this! They just work exceptionally well to remove mascara and are oh-so convenient…thank gosh I stopped though because I was only neglecting my skin by doing this and I knew better. On comes the colder weather and my dry skin was getting worse, as soon as mid fall hits there is a drastic change in the condition of my skin. When Murad reached out to me I thought, well isn't this product just for acneic skin? NO! They have a phenomenal range of products for different skin types with fantastic reviews if you check them out here at
Sephora
! As I mentioned previously this week I used to do aesthetics and after studying the skin you have a greater appreciation for the dynamics of it and what products claim to do and how. After checking out their entire website I knew the exact products I wanted to try! So, I have been using about 6 of their products religiously paired with my Spin cleansing brush I talked about on Instagram. Here are the products I am using & how…
Evenings:
1- Cleanse & Tone with the Age Reform Refreshing Cleanser + my Spin brush
2- Treat with the Resurgence Age-Diffusing Serum
3- Hydrate & Protect with the Hydro-Dynamic Ultimate Moisture
Mornings:
1- Cleanse & Tone with the Age Reform Refreshing Cleanser
2- Hydrate & Protect with the Hydro-Dynamic Ultimate Moisture
3- Treat & Protect with the Invisiblur Perfecting Shield
Refreshing Cleanser: This is a gentle formula cleanser that hydrates my skin while removing impurities from the surface but not stripping it of its oils (so important guys!). I cleanse every night with my Spin brush and in the mornings just my hands.
Age-Diffusing Serum: This serum works wonders and I can feel it work when I use it, your skin works so hard at night while you sleep so why not help it do its job? This product helps fight age-related dehydration which has been perfect for my skin and helped to reduce the fine lines I see creeping up on me!
Hydro-Dynamic Ultimate Moisture: This moisturizer is phenomenal, I put it on very heavy at night after my serum dries and in the morning my face feels baby smooth and seems to hold its moisture better all day as well!
Invisiblur Perfecting Shield: This bad boy has replaced my usual primer, I rarely wear foundation as I am a die hard tinted moisturizer fan and lately I have been using the Invisiblur + my Smashbox Halo bronzing powder (found here) and it's perfect!
I've also been using their Hydro-Dynamic Eye Moisturizer at night and their Soothing Skin & lip care during the day with the cold front upon us! My skin has been really appreciating all of these products and I look forward to seeing the results after long term use! MURAD has generously given our readers an exclusive readers a 15% discount for their Canadian website (www.muradcanada.com) with the code 'bonjour' which is valid until January8th,2016! Also, if you are wanting to pair these items with the Spin brush I am using as well, you can find it here and use code "bonjourbliss" for $70 off.
One lucky winner will be getting the Refreshing Cleanser + the Hydro-Dynamic Ultimate Moisture! To enter this giveaway you must complete ALL of the following:
1- Comment on this post telling my why you want to win these Murad products
2- Share this post on your Facebook, you can share up to once a day until December 21st & every tag is an entry! PS Head over to my Instagram for more ways to enter too.
Entries open until December 21st, winner announced here on the blog December 22nd! Good Luck xo