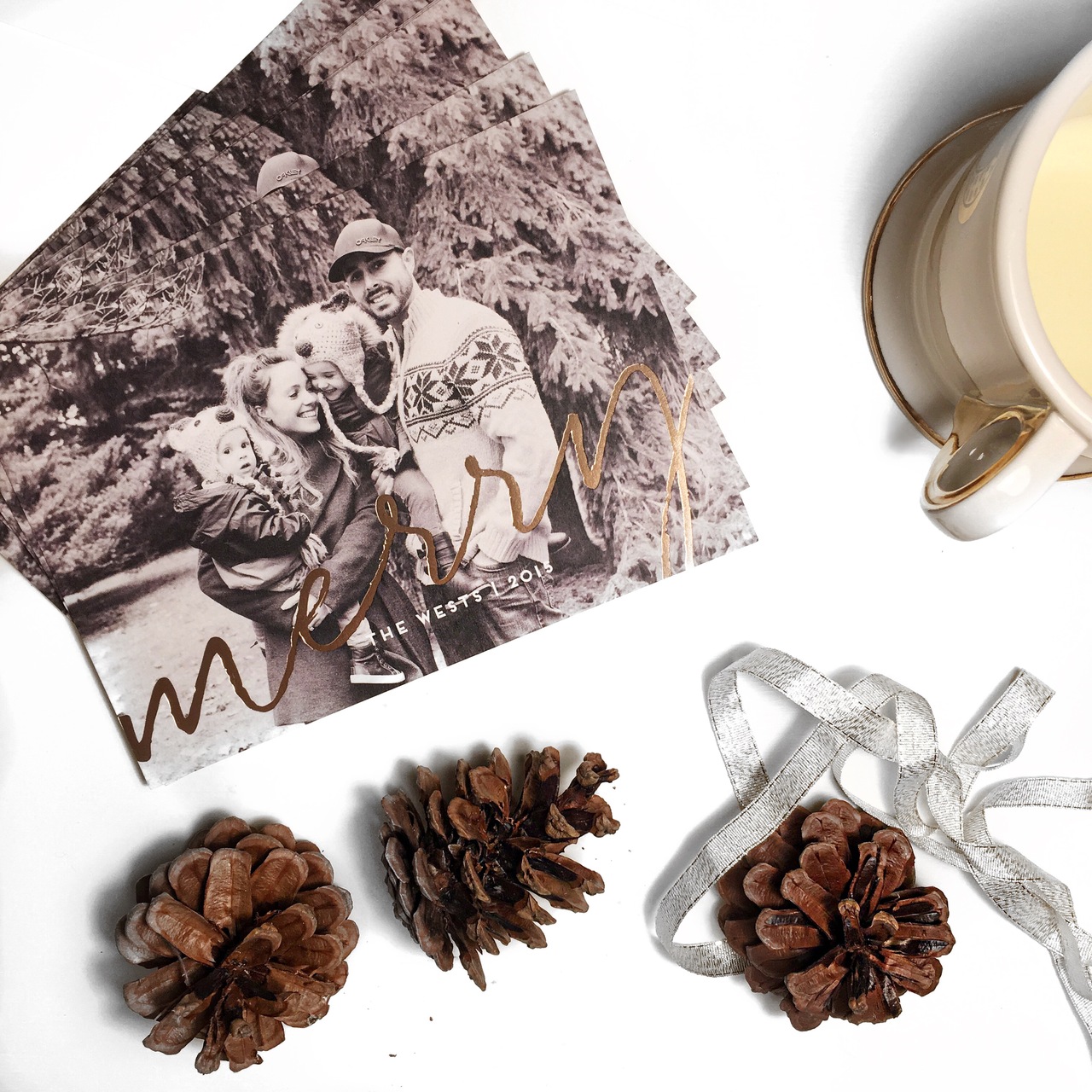 Pin It
So, so so excited about our Minted Christmas cards and to be honest this is the very FIRST year I've done them!! Plus, I just received them TODAY because I ordered them super late in the season & did our Christmas photos super late in the season ha! Leave it to us to do it all last minute right? Of course! We have been so crazy hectic around here busting our buns to finish some renos for photoshoots and just parenting in general that we did our family photos, ordered our Christmas cards and received them within 8 days. Thanks to Minted I was able to get them so quickly and this awesome company is generously giving one lucky winner a $200 giftcard to their website! I went for this rose goild foil-pressed Christmas card (of course I did right?) but I am also so in love with their ornament cards (SO CUTE!), you can find them here! These would make for an adorable gift for grandparents, and if you think it's too late to get Christmas orders it totally isn't with Minted. If you order by tomorrow at 3pm they're guaranteeing delivery by Christmas Eve! And if you haven't found the time there is always a New Years card, they have beautiful options. You will LOVE Minted guys, not only can your order some fun prints with your own photos like this adorable heart shaped snapshot one (totally getting this) that makes for the perfect gift all year round! They have invitations, birth announcements and beautiful fine or custom artwork too. We are re doing the living room and if you follow along on Snapchat (@roxanneawest) you would have seen some of the work so far. I've re painted, Craig has put in some diy built-ins (library wall) and now I need some new artwork above the couch…above the couch is a crucial space, it's keeping me up at night! I am debating a gallery wall with like 10-12 pieces from Minted or 3 bigger pieces, what do you think?? On another note I am dying over this photo of our little fam jam that Cait Patrick Photography captured! Candid moments are by far my favourite and it was incredibly hard to pick which one I liked most out of the shots she took, here is the one I chose for our Christmas cards & yes, obviously I had to go with rose gold foil on it!!! I will for sure be sharing the whole lot of the photos Cait got of us before the New Year so consider this a sneak peek.
To enter todays giveaway you must complete ALL of the following:
1- Comment on this post telling me how you would spend your $200 gift card to minted!
2- Share this post on your Facebook or Twitter, you can share once a day until December 21st and each share is an entry!
3- For an extra entry pin this to your Pinterest or head over to my Instagram for more ways to enter.
Entries are open until December 21st, winner announced December 22nd. xo